International Mission Trips
Go therefore and make disciples of all nations
September 27 - October 8, 2020 - Medical Mission Trip
Calling all medical personnel—come and join Tamra Youngren, Director of our Community Medical Care Center, as we travel to work with our partners in Cambodia and host medical clinics. We will be doing our best to meet the physical needs of those we encounter, in efforts to reach their greater need to receive Jesus as their Savior! We will also be spending time with our partners on the ground, encouraging them as they serve so faithfully.

At the end of our week, we will be travelling to Angkor Wat, a Hindu complex that is the largest religious monument in the world, covering 402 acres. This will be a wonderful opportunity that you won't want to miss!

Team is limited to six people.
September 5-15, 2020 - Rehired Program Preview
Join one of our Re-Hired Couples for a sneak preview of what a week in the life of a Re-Hired person is like! Spend a week engaging in the work, loving on our partners and their families, falling in love with our partner city and getting a glimpse of all that is happening there. We will also travel out to the mountains to experience work in some villages! If you have been considering the Re-Hired Program, this trip is for you!
April 23-30, 2021 - Community Engagement & Evangelism
Come and join us as we partner with missionary church planters, Eduardo and Gloria Buldain. The Buldains serve in an area known as La Matanza, home to over 1.7 million people who desperately need to know the truth of Jesus. They have a vision to plant a Bible-believing church in every neighborhood in La Matanza, preaching the Gospel of salvation through grace and discipling those who come to Christ.

Our team will work alongside the people of Argentina, doing door-to-door evangelism, leading children's activities and assisting with small group discipleship as well as being an encouragement to the members of the local churches. God is at work in Argentina, and it is a blessing to be a part!
Summer 2021 - Strategic Missions Partnership
Come and join us as we partner with our church missionaries, Keith & Angie Copley, and the work that God is doing in Papua New Guinea! We will spend time working with children, ministering to the Copleys and their team that
serves there, as well as doing some light construction work around the Ethnos 360 compound.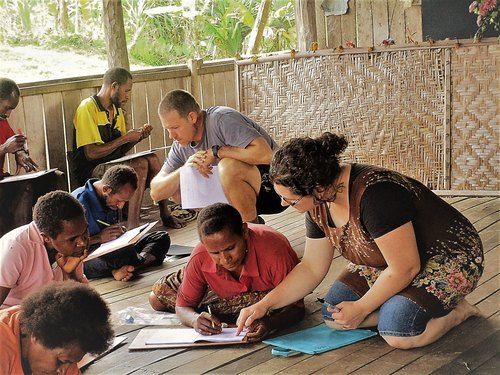 Summer 2021 - Community Service & Engagement
Join Pastor David and high school students as we travel to the Comarca Region of Chiriqui, Panama, to work with a tribe of over 5,000 people who live in clusters of huts spread over a mountain. The team will walk between two and five miles each day as they go back and forth to the village. They will teach crafts, music and games as they seek opportunities to share the Gospel and their personal testimonies with the locals. They will also help with local community service projects. Mark your calendar for this exciting opportunity!
May 7-14, 2021 - Evangelism & Bible Studies
Cuba is a country of great beauty, but also of great need. There is a lack of available resources, food and everyday conveniences. However, the most important need is spiritual. Our team will work alongside our Cuban brothers and sisters at Havana Baptist Church with translators and guides to share Christ in homes. What a joy it will be to partner with this fine church as they ask us to come and help reach their community with the gospel.
July 20-31, 2021 - Olympics Outreach
Come with Pastor Jamie to the Olympics to connect with local residents as well as visitors from around the world through sports clinics for kids, coffee shop ministry opportunities, community events that will involve kids games and all sorts of engaging activities to share the gospel. What an incredible opportunity to share the Gospel with people from all over the world. You can also attend an Olympic event if you would like.