Then Jesus called for the children and said to the disciples, "Let the children come to me. Don't stop them! For the Kingdom of God belongs to those who are like these children. I tell you the truth, anyone who doesn't receive the Kingdom of God like a child will never enter it."
First Kidz Children's Ministry exists to provide a safe, secure, and fun learning environment for children in Kindergarten - 5th grades. All volunteers have completed a National security screening and have been trained to work with and teach children. We pride ourselves on a standard of 1:5 volunteer to child ratio. We focus on helping children understand the basics of the Bible and how God's Word helps us to learn how to live and interact with others. We believe that God's Word is living and speaks to each of us through the Holy Spirit. Our desire is to guide children towards a personal understanding of who Jesus is, what He has done for us and to present multiple opportunities for each child to choose to follow Jesus through a personal decision. All of our volunteers feel called to educate children and are excited to serve each week.
Connect with us on our
Facebook
page to keep up with the latest news and events happening in our ministry.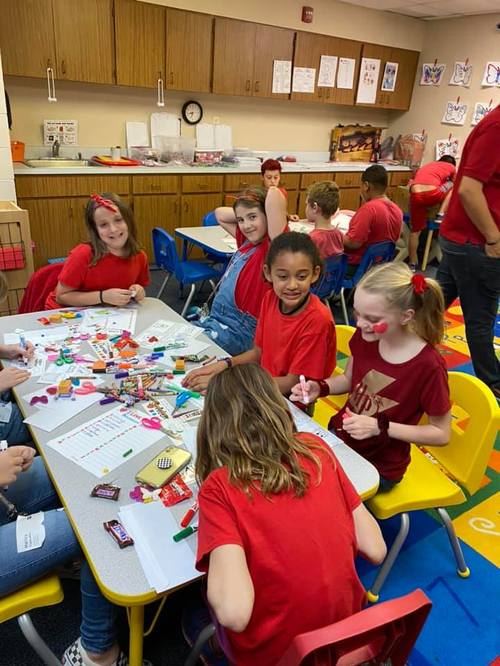 We use the trimester system based on the school year.
Fall: September - December
Spring: January - April
Summer: May - August


9:45 – 10:45 am — Bible Study/Small Groups
On Sunday morning we offer small group learning environments based on school grade. Children come to our KidzZone and we have a large group time with announcements then dismiss to our small groups. Each class has two volunteers/leaders and we limit the class size to 12 students. During this hour we focus on age appropriate teaching using all five senses to help the children learn age appropriate Bible Truths with life application.
11:00 am – Noon — Kidz Church
Our Kidz Church hour is designed for children in grades Kindergarten - 3rd grades. Our Pre-Teens (4th &5th graders) can choose to go to Big Church with their Parents/Guardians or they can choose to be part of our Club 45 Service Teams who alternate weeks and serve during the Kidz Church hour. Our Kidz Church is designed to help children understand Biblical History, Memorize the Books of the Bible and link specific stories, events and leaders too specific books of the Bible. We do this through music, skits, videos, and games. Kidz Church is a lot of fun for all ages.
6:00 – 7:15 pm — Kidz D-Night
Our Kidz (D)iscipleship Night program is designed for Kindergarten - 5th grades. We know how hard it is in the middle of the week so we want our Wednesday D-nights to be fun and educational that is why we use a rotation approach to our programing. Each Wednesday we divide the kids into teams and have them rotate between stations: Bible Story Time, Missionary Moments, Recreation and Snacks. This allows the kids to learn something new, see how real missionaries are using a similar story or skill in the field then have some run and play time.
At First Leesburg, our Kidz Ministry is all about the GRAPES!
G—God
R—Relationships
A—Attitude/ Acquire Knowledge
P—Prayer
E—Edutainment: Entertainment/ Education
S—Safety/ Salvation
We'd love to hear from you. Fill out the form below to get started.